Meet the SpaceGrill
We started life with just the one product, but now the international award-winning 3-burner SpaceGrill has a little sibling – a 2-burner that's even more space efficient (natural and bottled gas versions being available in both models).
And both members of the family are truly like no other barbecue or grill you've ever seen!
Incredibly space efficient
Thanks to our patented fold-down design, SpaceGrill has unrivalled space saving credentials. When stored down after use, both our 2 and 3-burner models protrude a mere 20cm from where mounted (be it wall, other vertical load bearing structure … or our portable stand). So when not in use, SpaceGrill occupies very little – if any – usable space.
Dimensions folded down:
W 665 mm x D 205 mm x H 626 mm (3-burner)
W 665 mm x D 205 mm x H 476mm (2-burner)
Surprisingly spacious and versatile
When expanded out into cooking mode, SpaceGrill's 3-burner delivers a highly impressive 640mm x 485mm cooking area – big enough to easily cope with a decent sized gathering. And for those in need of even more space efficiency, the ultra compact 2-burner has a 640mm x 335mm cooking area, which can easily handle family duties … and quite a few hangers on!
Both models feature SpaceGrill's highly innovative new reversible hotplates. Made from extruded aluminium, these ceramic coated hotplates are incredibly light and versatile, providing three cooking surface combinations: tandem hotplates, hotplate/grill and tandem grill sections.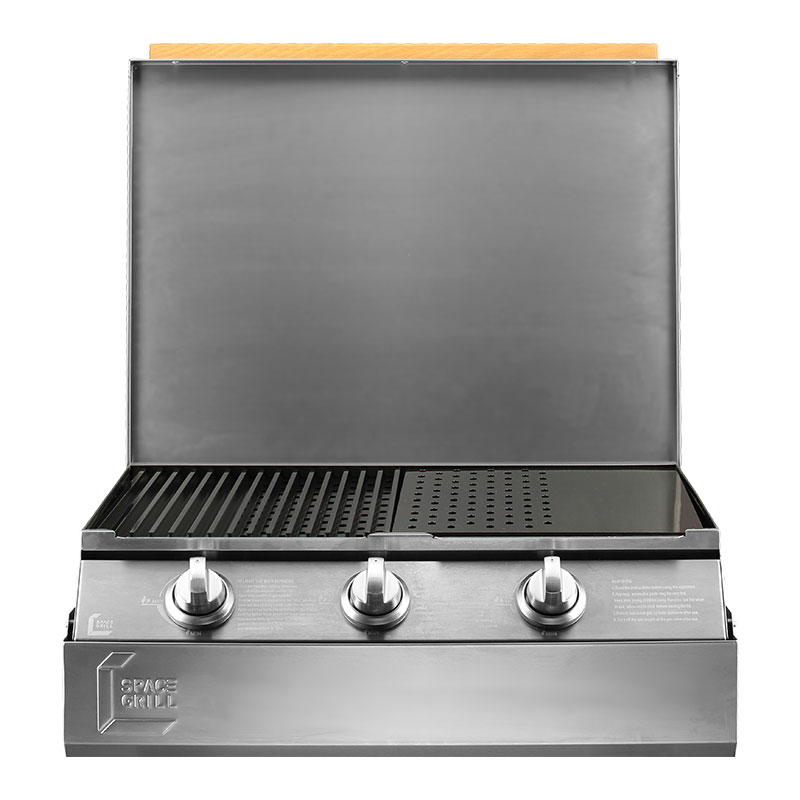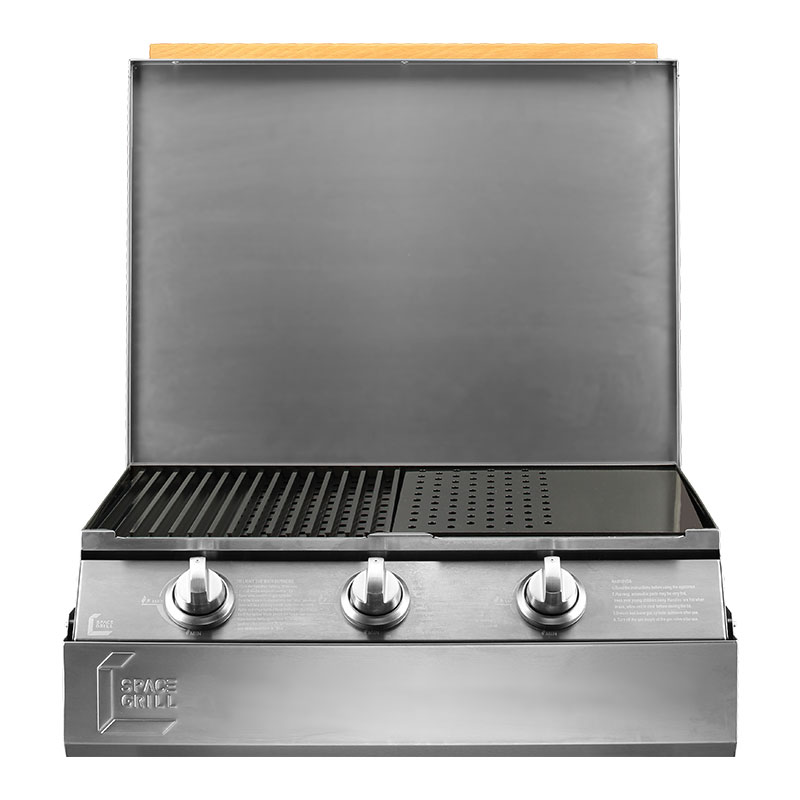 This combination of cooking surfaces allows searing, sautéing and much,
much more, including delicate foods you'd not entertain
cooking on a regular barbecue. Think relaxed outdoor
brunches or breakfasts – eggs sunny side up,
sausages, bacon, and hash browns.
So that you're ready to start cooking as quickly as possible, SpaceGrill comes completely assembled and is effortless to install. All you need to do is screw the mounting bracket to a suitable location on a wall or other vertical load bearing structure (see diagram for 3-burner model). Once the bracket is in place, just lift SpaceGrill onto the bracket, lock it and you're ready to go. No sweat, no tears. Just take a look.
SpaceGrill is just as easy to move: simply unlock and lift off. Being so compact, little space is required if you want to store SpaceGrill inside for the winter months. A portable stand is also available for those without a suitable load bearing wall – or if you just want some flexibility in terms of where you cook.
Central to SpaceGrill's design is a patented pivot mechanism within the mounting bracket that ensures it has a very modest 15kg pivot weight.
Aided by recessed finger holds on both sides, SpaceGrill is easily raised into cooking mode, a locking device being activated when lifted slightly above the horizontal and pushed inwards.
The lock is deactivated by lifting slightly and pulling outwards, allowing it to then be returned to the vertical storage position after cooking.
Plenty of power and control
SpaceGrill is powered by high performance stainless steel burners individually ignited by Piezoelectric crystal.
The total output ratings of 10.5kW (3-burner) and 7.0kW (2-burner) both provide plenty of firepower, with even heat distribution thanks to separately controlled burners, combined with innovative burner configuration in the new 2-burner model.
SpaceGrill combines various safety features to provide complete peace of mind. Built with thermocouple valves containing a flamefail setting, the gas supply to the burners automatically cuts out should the flame be extinguished by the elements. In some countries this means SpaceGrill is even safe and legal for indoor use (see our
FAQs
for further discussion about this feature).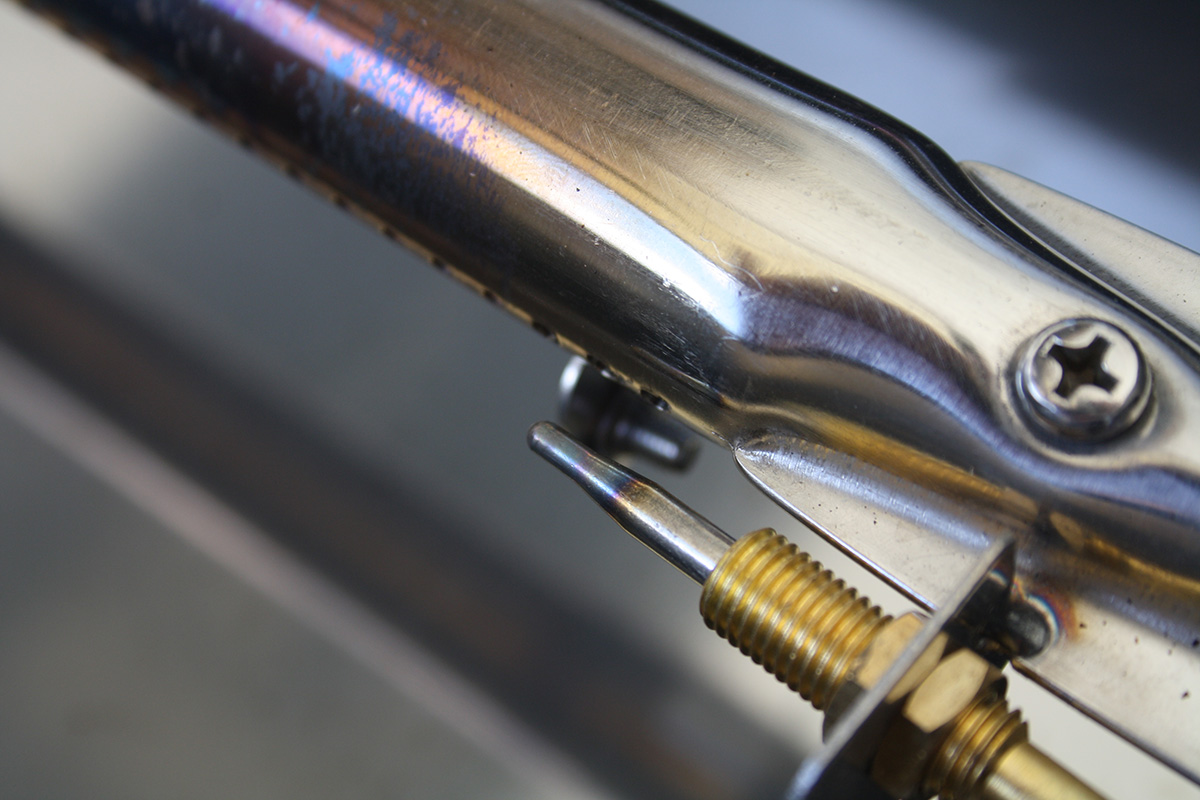 The new integrated lid in our latest models converts into a splashback when lifted up, which prevents cooking residue or splashes marking the wall.It's also been designed and vigorously tested to ensure there is no heat transference to the wall or other load bearing structure that the SpaceGrill is mounted to.
Plenty of protection from the elements
SpaceGrill is made from a high grade stainless steel (Grade 304) that is renowned for its corrosion resistance properties, so incredibly durable and hard-wearing. All SpaceGrills come with a weatherproof gunmetal grey Oxford cloth cover, which provides still further protection from the elements.
SpaceGrill has a patented internal drip system that captures run off in a detachable tray. The tray pivots as the angle of the SpaceGrill changes (see image on left), ensuring run off is collected in every position and then easily disposed of.
After cooking, the SpaceGrill' hotplates and grill section can be cleaned in a dishwasher, while the shallow cookbox can be easily accessed and wiped down, with any washing up run off also collected in the drip tray.
And if something is easy to clean, you'll use it a whole lot more!